Painting a Home Portrait in Watercolor
Watercolor landscapt painting demonstration

Continue to the Ground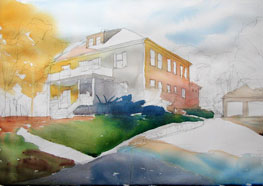 Before I moved my attention away from the house, I touched the popup at the roof. Then I used a mixture of Burnt Sienna and Red, washed into the area right under the yellow tree on the left, and then I mixed Yellow with Blue for the grass area.
I then worked into the bushes around the house and the driveway. Notice, I laid one color next another, so that they would naturally merge into each other. Sometimes I picked different colors in the bottom and the tip of my brush before I laid my brush to the paper, to create a special effect.

Color and Value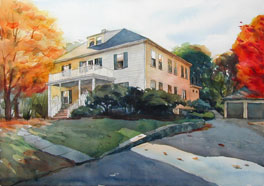 The next as the following:
1) Introduced the first layer of color to the green trees and red maple tree behind and to the right of the house.
2) Painted the window-sidings on the front of the house and the reflection in the window glasses on the right side of the wall.
3) Used mixture of Blue and Burnt Sienna to paint into the shadows on the driveway, and used mixture of Blue, Yellow and a bit Red for the area on the left under the yellow trees. Then I created the shadow on the rooftop.
4) Added shape and details to the bushes.
5) Glazed thin layer of color to create the details to the ground, driveway, trees, and then the house front door and siding.