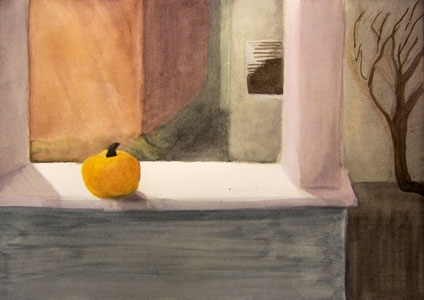 Watercolor painting by
Allison Lenker
Allison Lenker's watercolor learning experience:
It is hard to predict what I will do with what I have learned in painting. I've enjoyed this class and I know I will continue to paint in all mediums. I have learned some valuable techniques that have made painting in watercolors easier and more satisfying. My focus was supposed to be on painting a good portrait. I may not be there yet but I'm a lot closer than I was before and will continue to work on it more in the future.
I liked the idea of painting gifts and cards for people and will continue to do that. Maybe not for Christmas but definitely for birthdays. Its too overwhelming to make cards for that many people at a time.
Your suggestion to send in paintings to magazines is one that I never had thought of before. I think it is a good idea and I will probably try it. Since I am a biology major, I may try to send some paintings to nature or science magazines, but it would be nice to get any of my paintings in any magazine.
I will definitely continue to paint for the joy of it. No matter how busy I get, if I don't get a chance to paint for longer than a week I feel lazy and unproductive. The stress release I get from painting is essential to my well being. It keeps me balanced.
I hope to eventually get another art show up at the coffee shop my husband works at. I am in the process of finding out who to talk to about it. I had a joint show up at a coffee shop in Santa Barbara, when I lived there. It was relatively successful. I would like to have another one and sell some more paintings.
Over the next five years I will hopefully be on my way to a biology degree. Even though I would strongly like to pursue a career as a field biologist I would love to find a way to fit art into my life. Whether I can incorporate it into my job or have it be a welcomed break from my job I am sure I will keep painting in watercolors.
View students' online gallery