Simple Watercolor for a Gift Card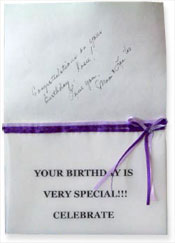 Instructions
Watercolor paper (I use Arches brand) 5 X 10 folded in half. OR Prepackaged watercolor Cards by Strathmore, which includes envelopes ( AC Moore or Craft Store)
I have used a Gouache (Permanent White), for ocean splash and waves at times, or petals of the daisy. My materials are Acid Free.
For this project, I bought a package of Watercolor Cards by Strathmore at the Craft Store. These are 140lb. watercolor paper with envelopes. The blank cards measure 5" x 6 7/8" and the envelopes are 5 1⁄4" x 71/4". I like this package very much.
At times I tape the blank card to a "field board" and put that on my table easel.
The tape will create a boarder around the edge with this method, which I'm not crazy about.
Generally, I simply tape between the front and back of the card to the board, and then a two sided tape or rolled tape under the front edges, to the board. Or… Use tape to separate the front of the card  from the back of card, using masking tape to create a clean edge between paper and painting.
Otherwise, I will not tape the card. I will paint flat on a table in order to paint to the edge. This can be a bit of a problem because watercolor paper tends to curl a bit when wet. I have at times used a hair-dryer to prevent a curling incident.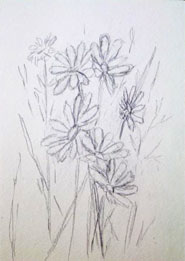 I bought Vellum, (laser/white) at Staples. The size is 8 1⁄2 x 11 for my computer to print my greeting. I folded a small 5/16' piece down with a bone folder, and then glued it to the card. I run my finger down the glued strip to make the glue even and thin.
When the painting is complete, I might cut a mat, and foam-core for a backing, to enclose with the completed painting. I wrap these in brown paper which leaves the card in its envelope, signed and addressed, separate. I enclose these together in a brown envelope for mailing. The recipient will frame their card-painting, which is now a painting gift.
Mostly, I will enclose only the mat and a same size sheet of watercolor paper for the back of the small painting if I've used Arches watercolor paper because it is acid free.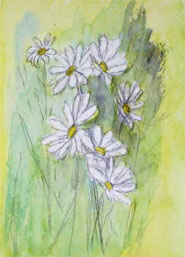 They will buy their own frame which needs glass. Size: 8 1⁄2 x 10.  Usually, a small frame will use it's own frame backing and not need the Foam Core.
They will tape the entire card on to the back of the mat with a Paper Tape from the Pharmacy. One inch Johnson & Johnson in the First Aid section.
Mat, Foam-Core/ Watercolor paper sheet and Frame are all size: 8" x 10"
Mat opening: 4 12/16" x 6 9/16"
We will need to soften many hard edges.  I do that by first cleaning the paint from my brush. Now use the damp brush on hard edges in a gentle swirling action. It is important to gently soften and smooth edges.
I often use a hair-dryer to dry the paint before I continue.  I don't always want paint to run and blend into each other, or to cause a Bloom which can't be corrected.
Watercolor usually needs a couple coats to give depth and richness.
And lastly. Always keep your water and palette clean!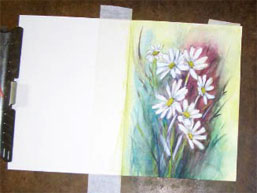 Supplies
PAPER:
Watercolor paper cut to 51⁄2 x 81⁄2. Fold in 1⁄2
ENVELOPES:
Invitation Envelopes 2416    # 5 1⁄2   Size 4 3/8 x 5 3⁄4
Or
BLANK CARDS: Strathmore Watercolor card pkg. (buy at Craft Store). Size 5 x 6 7/8
PAINTS:
Alizerian Crimson,
Dark green,
Sap green,
Lemon yellow,
Dark brown,
Paynes Gray
BRUSHES: 0 (thin),
1⁄4 Flat lettering (PLAD)
Round #11 Sabeline
Round #6   Sabeline
Use the # 1⁄2 " Lettering brush to :
Wiggle action to remove unwanted paint from flower pedals.
Sharp point on #11 brush.
Sharp edges on 1⁄4 " Flat (lettering) brush.
Folded paper tower to wipe brush on while painting.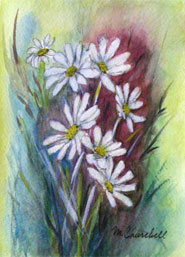 Painting
This exercise is a small bunch of daisies.
Start with a strong drawing.   Notice the position and shapes of the demo card.
When you are satisfied with the drawing, start with painting the background.  I used the yellow first to get the solid base.  Next, it is obvious that daisies need to be framed by the color around them.  I do one color and let each color dry before going to the next. I actually liked using turquoise color for this painting.  I will use a soft stroke to soften the edges as one color touches the other.
It is time to paint in the stems and any leaves.  This is the time that all finishing touches will be completed.
The yellow of the center of the daisies will need to dry well before the tiny dark parts around, and some loosely inside the center are painted.
THE PAINTING SHOULD BE FINISHED.
If a Vellum message is to be attached, use a bone folder to fold a 3⁄4 " flap for the glue.  I put the glue on my finger and use glue very lightly so it doesn't buckle the vellum.
FINALLY, on the very back of this card, mark the name of your painting on one line, etc.:  "DAISIES FOR MARGIE"
                          By
                    Your name
Made especially for you on your Birthday
This free lesson provided by Mary Churchill