Painting Flowers in Watercolor
Tools, materials and reference:
We will create a 25" X 31" painting (paper size) using ARCHES 140 lb. Cold-Press paper.
I prefer, and use Brera-Maimeri Blu (made in Italy) watercolor paints.
My students use Professional Products to avoid disappointments.
Brushes are according to size of paper and subject matter. For this painting, I used:
FLAT - #1 inch - #12 - #8
FILBERT - #12 - #10 - #6 - #4
ROUND - #12 - #6 - #4 - #1 (my rounds are Kolinsky Sables)
My palette has:
BLACK: Ivory Black and Payne's Grey bluish (this is wonderful where there is a white flower or shirt.)
YELLOW: Permanent Lemon Yellow, Naples Yellow Light
VIOLET: Permanent Violet Blueish OR Colbalt Violet
RED: Alizerian Crimsian Permanent, Permanent Red Deep
BLUE: Ultramarine Deep, Colbalt Blue Deep, Prussian (sometimes)
GREEN: Sap Green, Permanent Green Light, Phthalagreen, Turquoise Green
BROWN: Burnt Sienna: Vandyke Brown
ORANGE: Permanent Orange
You will need a water basin, or jar and paper towels.
Sketching and planning
Tape your paper to the board with masking tape. You can either use a table and prop your board somewhat, or an upright easel.
Choose a photo. (If possible), make Division marks Vertically and horizontally.
Mark your paper in the same manner but use LIGHT markings ( you will want to remove these later).
You may want to use this method until your drawing skills are strong to avoid frustration and a sense of failure.
Begin your drawing
Watch your reference points to be the "guide" This means, question yourself as to exactly (within each block) what goes where, and how does each line' relate to another.
Tip: with one eye closed, you can hold your pencil to a particular line on the photo and this will show you exactly the position of that line.
Take the drawing to a mirror to examine it with a critical eye.When drawing is completed to your satisfaction, WET the entire paper using a very wet SEA SPONGE.
Let it dry naturally. Whenever possible, overnight is good.
When drawing lines and guide lines are light enough, there should be no need to erase them.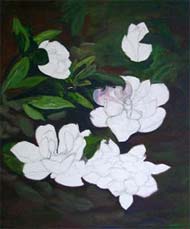 Start painting from background
You will need a brush basin or jar of water.
Wet your large flat brush and use background colors. When the colors are for foliage, I use a dark on one side and a light on the other side of the brush.
I will often use a paper towel to dry the brush of excess water at the ferial.. which is the part where the brush hairs and metal meet.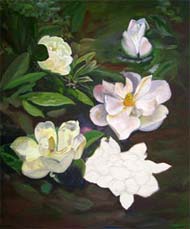 Painting flowers
When the background colors were completed, I painted the flowers one at a time.
I then go back to the background to make any corrections and a finish.
I now go again to the flowers and check each to make certain they are all ON TOP OF THE BACKGROUND, by cleaning up all edges.
Note that flower number FOUR is of a different variety and needed to be changed to the same variety as flower number THREE.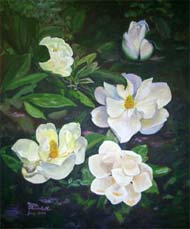 Finish up
When you think of your painting as complete, you will sign in an insignificant manner: the painting is what is important.
Your mat must be ACID FREE Acidic paper will eat your painting in time.
You would do well to consider at least a two inch mat border around the painting.
Watercolor must have a glass cover.
The backing can be Acid Free "Foam-core"
Jennie's Magnolia can be a Watercolor OR Acrylic on canvas. For Acrylic the canvas size is 24 X 30 and the acrylic colors and brush sizes the same as that of watercolor.
This free lesson provided by Mary Churchill