Color Study for a Home in Watercolor
Drawing
For this color study, I first did a simple drawing on 11 by 15 inch watercolor paper. Keep in mind, this is an experimental process. You will be exploring the color and value relationships between the major subjects in the painting, not addressing the details and small subjects.
Color Study is a process of experimental color composition and value arrangement. It is especially helpful when you need to combine two or more reference pictures for a painting. For example, in my recent watercolor painting commission, my reference pictures were two photos of maple trees, and a picture of a morning scene of the house.
Here is my method for this color study in brief
Most often, I use red, blue and yellow, the three primary colors, most often, mixing them as needed for orange, green and purple. I also use burnt umber for brown and to tone down the other colors.
Start from the main subject
I started by laying the basic wash on the house. Then I decided where the clouds would be and washed the sky area with blue, leaving the space for the clouds untouched.
Add trees behind the house
I made the trees in various colors. You might worry that there could be too many different colors, but go ahead and try. I laid in the colors for the trees and moved away. I don't stay in one area for too long, especially in the beginning stages.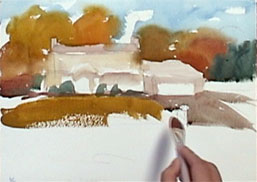 Cover the front of the house
I mixed yellow and blue with a bit of red for a warm green for the front yard grass, then mixed burnt umber and blue for the warm gray for the driveway and the road.
Add darker colors and second layer to the house
I added darker colors to the trees on the left, middle and the right. I also lightened some areas by lifting off color with a clean brush. This gives the trees dimension and depth.
I wanted to add a yellow-colored tree in front of the house, so I first lifted off some color at the right of the house, then worked some yellow into the area.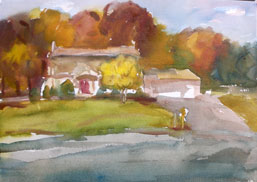 Final adjustment
I increased the definition by introducing darker color lines and shape. To make an area warmer, I add a thin red layer of glaze onto it.