This poster is a perfect gift for the coming Holidays, especially for all bird-lovers and children. It also a wonderful gift for a baby shower, birthday and other occasions. It is educational as well as artistically attractive. Ideal for a school classroom or student's room.

This poster was printed on museum quality fine poster paper, using professional, full-color offset printing with protective varnish on each bird alphabet letter. This poster is part of a limited edition that was printed in 1996.

Poster Print now on Sale.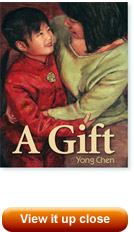 Story and paintings by Yong Chen. Published by Boyds Mills Press.

ForeWord Magazine:
"The story succeeds in evoking the importance of meaningful family relationships, especially over a distance. Quietly told, it is probably best for a child and a caregiver to read while sitting close together."

Booklist:
"This is a lovely story about families and cultures staying in touch. Wonderful for lower elementary grades."...

Learn more from Amazon.com