About Yong Chen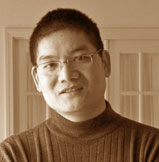 Yong Chen hails from Taishan, a town in the Guangdong province of China. Yong began drawing and painting at the age of four.
Before Yong came to the United States, he was a high school art and science teacher for five years. After immigrating to the United States in 1989, Yong studied Graphic Design and Illustration in Boston, and earned his Master of Fine Arts from the University of Hartford, CT.
Since 1995, he has illustrated/authored many children's books and children's magazines. Publishers of his work include: Little Brown and Company, HarperCollins, Boyds Mills Press, Highlights for Children, Spider, Cricket, and AppleSeeds.
Besides working as a professional artist, Yong has been an art professor teaching drawing, watercolor, painting and illustration in some 4-year and 2-year colleges in New England. Currently he is a tenure professor of art at Bunker Hill Community College in Boston.
"Painting is my life-long passion. Painting is a means for me to express the emotions I find in the relationships of people and nature."
View video Story About Yong Chen     Read Interviews and Press
Exhibitions:
2016-17 - - solo show - Manchester City Hall Gallery
Nature, Children and Us
2016 - Montserrat College of Art Gallery
Inspired Views
2016 - Children's Museum of New Hampshire
Everything Under the Sun
2016 - The Gallery at 100 Market
Open
2015 - Children's Museum of New Hampshire
Of Beauties and Beasts - Children's Book Illustrators
2015 - The Gallery at 100 Market, Portsmouth, NH
Figure Out
2014 - The Gallery at 100 Market, Portsmouth, NH
Guise, Garment & Textile
2012 - solo show - Bannister Gallery, Rhode Island College, RI
Carrying the Dreams
2010 - solo show - Gallery of Lyndon State College, VT
Stories in Pictures: Yong Chen's Original Illustrations from his Recent Picture Books
2009 - solo show - Nashua Image Gallery, NH
Story Time: The Original Arts from Yong Chen's Latest Picture Books
The Original Arts from Yong Chen's Latest Picture Books: A Gift and Finding Joy
2009 - Logan International Airport (invitational group show), MA
The International Artists Group – The World Around Us
2009 - Silpe Gallery, University of Hartford, CT
MFA Illustration Thesis Show
2008 - solo show - Nashua Image Gallery, NH
Through The Eyes Of Yong Chen
2005 - solo show - Nashua Image Gallery, NH
Yong's Watercolor Art
1996 - solo show - Rivier Art Gallery, NH
East to West: Yong's Recent Oil and Watercolor Paintings
1995 - solo show - Bunker Hill Art Gallery, MA
Search and Connect: Yong's Watercolor Paintings and Children's Book Illustrations
1993 - solo show - Bunker Hill Art Gallery, MA
Yong's Watercolor Paintings
1988 - Taishan People's Fine Art Museum, China
Portrait Painting Show (Juried, 1st prize)
1987 - Taishan People's Fine Art Museum, China
Portrait Painting Show (Juried, 2nd prize)
1986 - solo show - Foshan Gallery, China
From City to Country: Yong's Watercolor and Oil Paintings
1986 - Taishan People's Fine Art Museum, China
Watercolor Painting Show (Juried, 2nd prize)
1983 - Foshan Gallery, China
Foshan Area Colleges Invitational Show – Color of Summer
1982 - Foshan Gallery, China
Foshan Area Colleges Invitational Show – Drawing and Paintings of Our Lives
1970 - Taishan People's Fine Art Museum, China
Holidays (Juried, 3nd prize in children artists category)
Publications With Yong's Watercolor Paintings:
Children's picture book "The Shofar Must Go On"
Written by Lina Schwarz, published by PJ Library, 2016
Children's picture book "A Gift "
Written and Illustrated by Yong Chen, published by Boyds Mills Press, 2009
Children's picture book "Finding Joy "
Written by Marion Coste, published by Boyds Mills Press, 2006
Children's chapter book "Swimming with Sharks"
Written by Twig C. George, published by HarperCollins Publishers, 1999
Children's chapter book "Starfish Summer"
Written by Ona Gritz-Gilbert, published by HarperCollins Publishers, 1998
Children's picture book "Miz Fannie Mae's Fine New Easter Hat"
Written by Melissa Milich, published by Little, Brown and Company, 1997
Children's picture book "Maria's Loose Tooth"
Written by Louis J. McNeil, published by Special Gift International, 1995
Children's magazine "Spider" - Get Off My Lap, Cat
Written by Trinka Enell, 1998
Children's magazine "Spider" - The Mat and the Meal
Written by Virginia Kroll, 1999
Children's magazine "Cricket" - Leaves of Summer
Written by Patrice Brazell, 2000
Children's magazine "AppleSeeds" - Why the Kikuyu Love Mount Kenya
2001
Children's magazine "AppleSeeds" - Mountain Zones
2001
Press Interviews News and Events
陈永清简介
我出生于中国广东省台山市南部的一个大村镇 — 汶村,那里既是侨乡,又是鱼米之乡;那里有悠久的艺术传统和浓厚的艺术氛围,是育才的好地方。
我从小就与绘画结下了不解之缘。十三岁,我就和周围的小伙伴讲述自己画水彩画的心得和向他们传授绘画的技巧。
我的中学是广东著名的台山第一中学,而最令我怀念的时光是在佛山大学(那时称佛山师范专科学校),我所学的专业是化学,我的业余爱好是画画。
大学毕业后我成了一名中学化学老师。在教授化学的同时,我主动担任美术和部分音乐课程,令那五年平凡的教学生涯增添了一点斑斓的色彩。
父母移居美国之后,我在一九八九年也移民到了美国东部,开始了新的生活。
在麻省,我先攻下语言关,随之攻读电脑平面设计。一九九五年毕业并获得艺术学士学位,供职于一所面向高新科技的杂志出版公司,作电脑出版绘图师。后来,几经周折,先后担任商业营销、品牌策划广告公司的艺术创意总监和先进科技应用软件开发公司的产品创意总监。涉及商业推广、品牌形象设计、包装和宣传等不同领域、不同层面。在专业技术应用上,我把所学的知识运用到科技杂志出版业,多媒体技术的应用和策划,互联网上商业形象的营造和推广,并对高科技应用软件的视觉感观进行策划、艺术指导和制作,尤其对如何让中文、英文等多种语言在高科技软件开发中得以应用等问题进行了探索。
近年来我在哈特福德大学继续深造美术和插图,并于二零零九年获得艺术硕士 (Master of Fine Arts) 学位。现在我是美国波士顿一所社区学院的终身美术教授。
生活了两个不同的国度,到了今天,我仍然像当年孩童时代一样,以一颗纯真的心对待艺术。每每出版公司跟我谈起图书创作,或与艺术同行谈起艺术生涯时,我都是以纯真和严谨的态度来对待,而不是着眼于金钱利益。每当我拿起画笔的时候,并不是为了生计,而是为了享受纯艺术。
我的另一个兴趣是教授画画。我的教学经历始于少年时代,盛于大学(在中国)时代,那时,我凭着一股热血发动并组建了"佛山师专美术社",担任社长,自任导师,带领一班社员把美术社搞得红红火火,培养了一届又一届美术爱好者,举办了一次又一次的"佛山师专书画展 ",享誉佛山。大学毕业后到中学任全职老师。几年前在美国麻省公立艺术学院和新罕布什州私立大学列卫亚学院传授水彩。我深深的感到:教育是一门艺术,特别是教授艺术。
在我的在线画廊部分,展示了我创作的几本儿童图书,参与插图的儿童杂志,人物肖像,风景以及不同类型的水彩画作品,和分步解说的水彩画示范图片和学画视频 。
如果您感兴趣的话,欢迎您点击这里进入我的虚拟画廊参观、指导。
这些年来我不断地被国内外媒体的关注,也接受了不少报纸杂志和电视媒体的采访。采访的内容大多是有关我的心得,个人经历等等。如果您想对我本人有更多的了解,相信这些文章会对您有帮助。(点击观看中国台山电视台"台山人"的专访)
这些专访包含我对艺术以及对人生的见解,并记载了当年我在中国时的故事和现时我在美国的发展。
阅读中国江门日报的专访:"让外国人真正了解中国––访台山乡亲、美籍华人画家陈永清"。